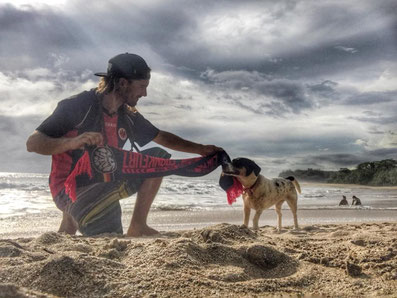 Why are you interested in watching sports? Isn't that a waste of time? 
Well, here is a thought I was having for quite some time on what yoga classes, group meditations and sport events have in common. 
As human beings we are longing for connection with others, we are social beings. 
Every time we are attending a yoga class we become part of a group experience.
Most probably we do not know all the other participants, but choosing to go to yoga is something that connects us. It creates a common ground.
This is one of the fascinating aspects of teaching yoga, to see how people connect by sharing their experience and enjoying the feeling of being with others without feeling judged. 
Not all people are into yoga and sometimes I hear my yoga friends saying things like this: 
I wish people outside the yoga world would understand the importance of getting together, sharing emotions and singing. 
Maybe they already somehow did in a different way?
When I was a teenager I was attending all home games of my favorite football team and sometimes even travelled with friends to see them play in other cities.
We were supporting them when they almost went bancrupt, played in lower divisions and completely lost it, but we also celebrated a few highlights over years, but it was never mainly about that. 
Many things in my life changed over the last 20 years. As I am not living in Frankfurt anymore I am obviously not a regular stadium visitor for the last seasons. One of the things I miss the most about home. 
Everytime I visit and make it to the stadium or watch our team on TV with friends it is the same feeling of connection as it has been 20 years ago. Following results from far away is one way to always stay connected with my friends at home. 
Our group of friends that watched games together have evolved in different directions (doctors, musicians, lawyers, businessmen, craftsmen and so on), but still there is this common ground. It is connecting us for a lifetime. 
Watching the game and everything around that creates an opportunity of getting together and not only talking about the game itself. It doesn't matter who knows the most about the sport itself or what they achieved in their life. It is not about the ego.  
It's not the most important thing in the world, but the game is the catalyst to bring people together. 
It doesn't matter if your team wins or not, it's always like a small vacation from daily life. 
Especially those that have experienced a crowd cheering up their team during the game or even hours before the game will know what I am talking about. It is a very special vibe created by everyone involved. 
It might not look as glorious as a ceremony in the yoga world, but somehow it is the same dynamics behind it. 
People getting together that share a passion and find ways to express it. 
Yesterday I witnessed my team winning a trophy for the first time in 30 years. 
I was watching it on a live stream with my dog in Costa Rica. Even being without the dudes at a far away place, there is this connection. I can imagine how much fun they have celebrating this and I am very happy for them, it almost feels like I am there. 
As Russell Brand puts it:
It doesn't matter what you love you can start with something simple, it can even be West Ham United. 
Well in my case it's Eintracht Frankfurt and I couldn't agree more. 
Go to 0:28 and see adults singing and dancing for no reason :)